Faux Wood Panel Solutions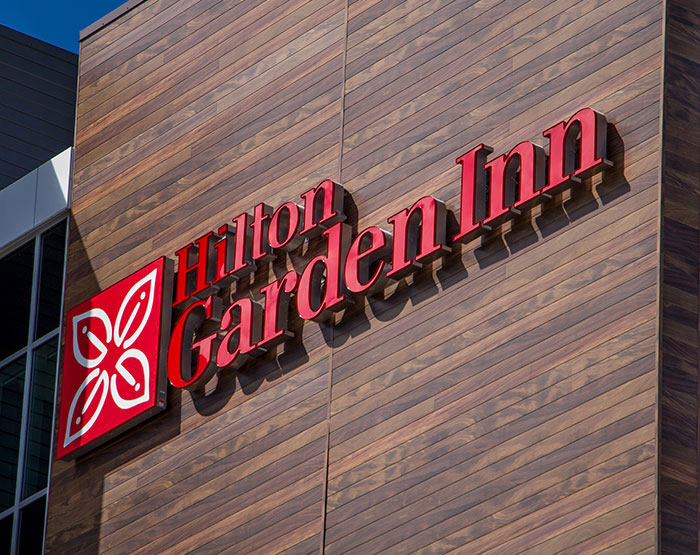 Almost every type of siding on the market tries to imitate the look of real wood. Why? Because real wood has a timeless, classic look.
Rising wood prices and concerns about ecology have contributed to a rise in demand for faux wood panel solutions. Wood siding is not a preferred option these days mostly due to its various disadvantages. The biggest drawback of wood siding is that it offers no insulation. It is prone to damage and needs weather-stripping. Without regular maintenance wood can rot, warp or twist, allowing water to seep behind the siding, potentially causing damage to the building's structure. Also, without some type of regularly applied protection, insects will damage wood.
Advances in faux wood siding offer a sustainable, durable, and beautiful alternative to wood. Explore the options and discover the realistic beauty of faux wood panels.
Types of Faux Wood Panels
Aluminum Composite panels consist of two thin aluminum sheets bonded to a non-aluminum core, typically between 3 and 7 mm thick. The panels can have a painted or metallic finish (e.g. copper or zinc effects).
ACM panels provide improved safety, making it easy to meet residential and commercial building codes. In addition to fire resistance, aluminum cladding boasts an impressive strength-to-weight score. It can be used to construct buildings that withstand all sorts of harsh weather, disasters, and other abuses without suffering structural damage.
DIZAL Digitally Printed Faux Wood Aluminum Panels
DIZAL Faux Wood Aluminum Grain Siding is created when real wood planks are digitized to reproduce nature's varieties of wood. An exclusive HD printing process prints the image onto the siding.
DIZAL digitally reproduces wood grains in 121 colors and 30 species.
Real wood planks are digitized to reproduce nature's varieties of wood.
An exclusive HD printing process at 660 dpi prints images onto extruded aluminum.
Noncombustible Class A faux wood panels per NFPA 285.
AL13 Architectural Solutions
AL13® ACM Panels are cut-to-fit on site. The system is secured using system frame components, allowing for on-the-fly changes. AL13 panels are half the weight of fiber cement.
AL13® Panels are available in standard polyethylene (PE) or Class A2 fire rated (FR) core – the highest quality fire-resistant panels.
System components have built-in moisture management (pressure equalized rain screen).
AL13 faux wood panels are available in 6 wood grains.
Fiber cement is a composite material made of cement reinforced with cellulose fibers.
CERACLAD Ceramic-Coated Faux Wood Fiber Cement Panels
CERACLAD exterior panels are a long-lasting, energy and resource-efficient building product. The ceramic-coated finish provides a high-performance surface against fading and discoloration.
Consisting of 45% recycled material, CERACLAD faux wood panels are 100% recyclable, factory finished with no VOC, and contain no asbestos.
The CERACLAD Rainscreen System is a construction assembly that incorporates proven rain-shielding technology. The system consists of pre-finished siding panels and innovative mounting clips and accessories that are manufactured and designed for durability, flexibility, and ease of installation.
Panels include a protective coating to provide additional UV resistance and color stability.
50-Year Product Warranty and 20-Year Color Warranty per ISO 105-A02:1990 Gray Scale and ESR-1627.
Non-combustible Class A style panels per ASTM E136-09.
CERACLAD faux wood panels are available in Urban Cedar, Rustic Wood, Antique Sawn, Wood Stack and Yakisugi wood styles and multiple finishes.
Extruded Porcelain Panels are designed to perform in the most challenging environmental conditions.
Benefits of Extruded Porcelain Panels
Estimated energy saving between 15% and 35% in both heating and cooling is achieved.
Highly efficient installation systems for all building environments save up to 35% on installation and replacement time.
Frontek Extruded Porcelain Panels
Frontek piece has many finishes in its different ranges: textured, natural, polished, metallic, wood and volume.
Minimum water absorption that the Frontek piece prevents dirt from permeating, making cleaning easier and minimizing maintenance operations.
Estimated energy saving between 15% and 35% in both heating and cooling may be achieved.